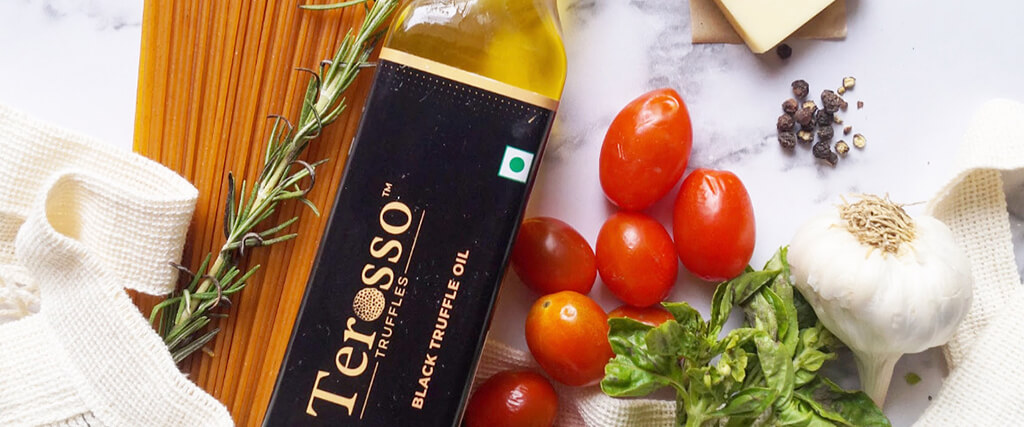 Truffle Oil – Take your food to the next level
What is Truffle Oil?
Truffle oil is a versatile ingredient that can be used to add flavor and aroma to a dish. It is made by suspending a flavor in a neutral base oil. This makes it a great finishing oil for various dishes. Truffle oil is commonly used to enhance the flavor of dishes that contain fresh truffles. However, it can also be used to add a complex earthy flavor to non-truffle recipes. When using truffle oil, it is important to remember that a little goes a long way. Therefore, it is best to start with a small amount and then adjust as needed.
The Essence of Truffle Oil
Truffle oil is a type of flavored oil that contains a neutral base oil with a suspended (natural or artificial) truffle flavor. It was created in the 1980s to allow people to enjoy the taste and aroma of fresh truffles year-round. The concept behind truffle oil is that it makes the truffle flavor and aroma available when fresh, seasonal truffles are not. Truffle oil became popular in the 1990s as part of the American fine-dining revolution. Every chef wanted to have truffles on their menu, and if they didn't have fresh truffles, they used truffle oil. However, the sometimes heavy-handed use of truffle oil led to a "foodie" backlash by the end of the decade.
Varieties of Truffle Oil
Terosso Truffle Black Truffle Oil is made with clean-tasting sunflower oil with black winter truffle flavoring. It has an intense, musky aroma and complex flavor. Black truffle oil adds an earthy character to mashed potatoes and french fries, gives simple egg dishes complexity and lends a headiness to hot-off-the-stove popcorn.
Our White Truffle Oil is made from first-pressed olive oil with Italian white truffle flavoring. It has a robust, earthy aroma with notes of fresh garlic. White truffle oil adds a kiss of truffle aroma to savory custards, makes a wonderful finishing oil for risotto or ricotta gnocchi, gives an earthy kick to salad dressings and is the crowning touch on Robiola, prosciutto and roasted garlic pizza.
Benefits of Truffle Oil
Promotes Heart Health
Aids in Weight Loss
Preserves Brain Function
Fights Cancer Development
Keeps Skin Glowing
Regulates Blood Sugar
Truffle Oil Nutrition
Authentic truffle oil is made by adding truffle residues to oil, allowing the flavors to infuse into the oil over several days. However, many of the truffle oils found at the grocery store are actually made by mixing aromatic compounds with an oil base to mimic the flavor of real truffles. Truffle oil can be made with just about any type of oil, including canola or grapeseed oil. Most often, however, it is made using olive oil.
Because of this, the truffle oil nutrition facts are about the same as whatever oil used to produce it. If made using olive oil, it is generally high in calories and monounsaturated fats, as well as vitamins E and K. Olive oil is especially high in oleic acid, a type of heart-healthy fat that plays a central role in health and disease and is believed to have anti-inflammatory and anti-cancer properties.
One tablespoon of olive oil (about 14 grams) contains approximately:
119 calories
5 grams fat
9 milligrams vitamin E (10 percent DV)
1 micrograms vitamin K (10 percent DV)
History
Truffles have been used in cooking for centuries, dating back to the Neo-Sumerian era in the 20th century B.C. They were later produced in ancient Rome and became popular again during the Renaissance period. By the 1780s, truffles were commonly found in Parisian markets, though they were so expensive that only nobles could afford to eat them. Artificial truffle oil, which is made using chemicals that mimic the aroma of real truffles, was first produced in the 1980s. It has been met with mixed reviews from food critics, with some renowned chefs stating that it may alter the perception of what truffles should actually taste like. Gordon Ramsay and Anthony Bourdain are among the chefs who have been critical of truffle oil. Despite this, it has continued to be popular among the general population, as the mass production of cheap yet affordable artificially flavored truffle oil has made it more accessible.
Conclusion:
At Terosso Truffles, we have a wide selection of truffle oils for you to choose from. Whether you prefer white truffle oil or black truffle oil, we have what you're looking for. Order your truffle oil today and we'll have it delivered right to your door.