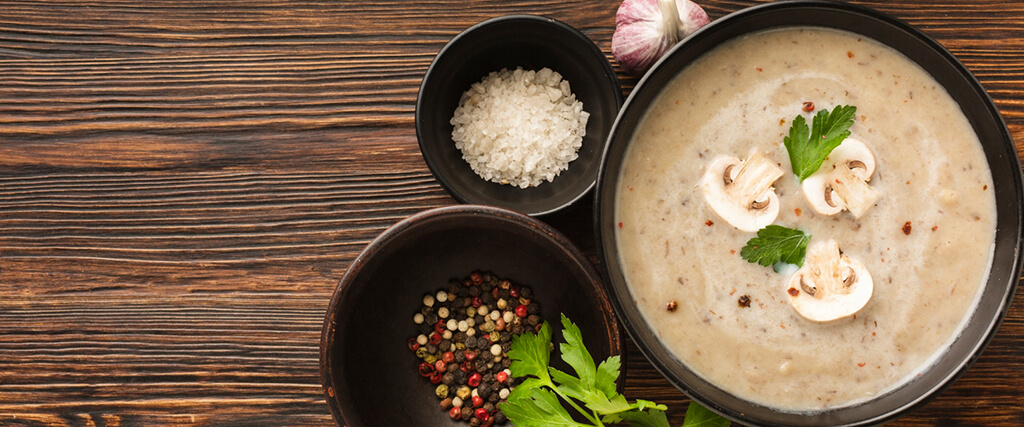 This simple and light recipe is aimed at being a very delicious starter for dinner parties or is a great match with any sandwich.
Words From the Chef:
What an easy, delightful recipe. I used some dried varieties of mushrooms that I had on hand combined with some button mushrooms and it worked out great. The variety of mushrooms added a nice depth of flavor, but the other ingredients did not overwhelm them. We have had some chilly days here this spring and this really hit the spot. Easy, but sophisticated in flavor. I would recommend this recipe for beginning cooks too — it's really a nice staple recipe to have in your repertoire.
Ingredients:
one pound cleaned and sliced crimini or other wild mushrooms
three tablespoons unsalted butter
three tablespoons unbleached flour
four cups chicken stock, preferably homemade
1/4 cup dry sherry
sea salt and ground white pepper
creme fraiche
chopped parsley
white truffle oil
Instructions:
Place mushrooms in heavy soup pot without water or oil. Cover and cook over low heat for 15 minutes.
Add butter in small pieces. When melted, sprinkle with the flour. Cook over medium heat, stirring, for a few minutes. Slowly add chicken stock, stirring constantly. Simmer for 10 minutes.
With a slotted spoon, transfer mushrooms to either a blender or food processor. Add the sherry and blend until smooth. Add 1/2 cup of the soup base, if needed, to produce a smooth puree. Return pureed mushrooms into the soup, reheat, season with sea salt and white pepper.
Garnish each serving with a dab of creme fraiche, some chopped parsley and a drizzle of truffle oil.
Conclusion:
Whether you are looking to Buy White Truffle Oil or Black Truffle Oil, Terosso Truffles is your one-stop shop for your Truffle needs.
Order Truffle Oil from Terosso Truffles and get them delivered to your doorstep.