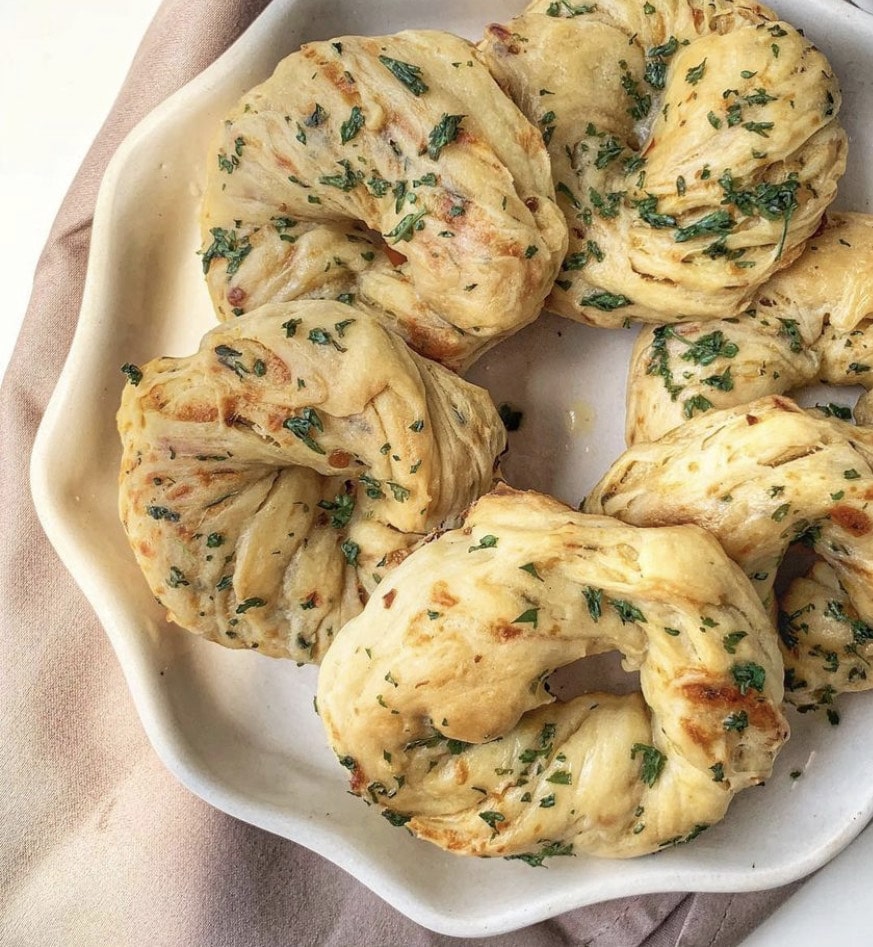 Heat 1/4 cup of water until it's lukewarm (not too hot!), add in the sugar, and stir till dissolved. Then, sprinkle the yeast on top and let it rest undisturbed for 15 minutes. Ideally, keep the bowl in a warm-ish place.
(I run my microwave while empty for 10 seconds, and then let the bowl with yeast rest in in.)
(Note: Your yeast should be slightly frothy when you start making your dough – if it's not, check the yeast for expiration, or let it rest some more.)
Add in 1 and a 1/2 cup of flour, 1 tbsp butter, salt and the rest of the water. Knead into a dough.
(If needed, add in the rest of the flour a little at a time until your dough is no longer sticky.)
Once your dough is ready, place it in a large bowl, cover with clear wrap and leave it to rest for 1.5 hours.
Your risen dough may be slightly sticky – dust with flour as needed.
Roll out your dough until it's about 1/4 inch thick – don't worry about going too thin or too thick!
Mix 1 tbsp of butter with the truffle garlic and spread all across the rolled out dough.
Sprinkle parsley and cheese to taste on top, and then roll the dough up. Then, cut the dough lengthwise in half, and then braid the dough.
Cut into 5 pieces. Roll out each piece until it's longer and turn it to create twists (see the picture above). Connect both ends to create a donut shaped twistie!
Brush the tops generously with milk. Then, bake at 220 degrees C for 30 minutes, or until browning on top. 
Mix some melted butter with parsley, and lightly brush the hot twisties. Serve fresh!